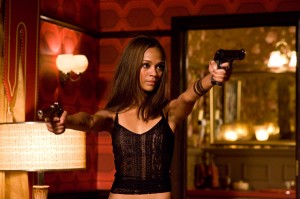 Zoe Saldana is getting a lot of action roles ever since she played a Navi in Avatar and her other character in Star Trek. She is slowly taking the mantel away from Angelina Jolie as an action star. Michael Vartan will now be seen alongside her in Columbiana. The film will be produced by Luc Besson and directed by Transporter 3.
Saldana plays a young woman who, after witnessing her parents murder as a child in Bogota, grows up to be a stone cold assassin. She works for her uncle as a hit man by day, but her personal time is spent engaging in vigilante murders that she hopes will lead her to her ultimate target: the mobster responsible for her parents' death.
Vartan will play the role of her boyfriend, an artist with no idea what she does for a living who is her only link to a normal life. Besson has written the script for the film along with Robert Mark Kamen. The two of them have combined on films like Taken, The Transporter and The Fifth Element. The action thriller is expected to hit theaters on September 2 nd, 2011.
Source: Comingsoon