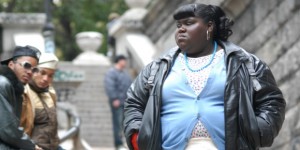 The much supported and publicized low budget film Precious. It is based on a story by Sapphire called Push. The film has just won the Top prize at the recently concluded Toronto film festival. It has been a regular winner even taking the top prize at the Sundance this year. The film was directed by Lee Daniels who was not present at the function.
The director could attend the festivities because of another screening of the film at San Sebastian. Daniels said this in his absence "Though I cannot begin to express my gratitude, as the audience award holds such a special meaning. I made this film for every person out there who ever looked in the mirror, and felt unsure about the person looking back at them. This is not an art film for a select few. This is a movie for everyone that can relate to. This film is for all precious girls, and for everyone who has a little precious on the inside."
Precious which stars new comers Gabourey Sidibe, Monique, Paula Patton and Mariah Carey was also bought up by Lions Gate after the Sundance film festival. It has been impressing venues at several places. The film has been jointly produced by Oprah Winfrey and Tyler Perry. The film is on awards frenzy and has been called one of the front runners in the Oscar's next year.
Toronto also introduced two new awards fro documentaries and some films called the Midnight Madness section. This year went to the lesbian documentary on a country and western singer The Topp Twins. The runner up prize was handed to Michael Moore. She had this to say after her win "I can't tell you how thrilled I was to bring this movie here," Pooley said at the ceremony. "This is so special. I've been making documentaries for like twenty years. And usually they're dark, and that is often the world that a documentary filmmaker moves in. But this is a film about joy and laughter and love. It's just so special to be able to bring a film like that to audiences like yours. More than anything, I need to thank The Topp Twins, who are a force of nature and I'm actually slightly frightened about what might happen if tell them we've won this award."
But even though the success of the film it has still not landed a distribution deal yet. But surely it is not a cause for concern. There was also a fight for the newly initiated Midnight Madness award which eventually went to the Loved Ones beating out Daybreaker.
The director Sean Byrne was really surprised by the honor and felt it was a much needed welcome in the awards category. People seem to take the genre more seriously finally.
But the International Critics Prize was one of the best films out the there this given to Bruno Dumont's Hadewijch was really gem of a film. Here is the complete list of winners after the jump
Cadillac People's Choice Award:
"Precious" Based on the Novel 'Push' by Sapphire" directed by Lee Daniels
First Runner up: "Mao's Last Dancer" directed by Bruce Beresford
Second Runner up: "Micmacs" directed by Jean-Pierre Jeunet
Cadillac People's Choice Award For Documentary:
"Topp Twins" directed by Leanne Pooley
Runner up: "Capitalism: A Love Story" directed by Michael Moore
Cadillac People's Choice Award For Midnight Madness:
"The Loved Ones" directed by Sean Byrne
Runner up: "Day Breakers" directed by Peter and Michael Spierig
City of Toronto and Astral Media's The Movie Network Award Award For Best Canadian Feature Film:
"Cairo Time" directed by Ruba Nadda
SKYY Vodka Award For Best Canadian First Feature Film:
"The Wild Hunt" directed by Alexandre Franchi
Prizes of the International Critics (FIPRESCI Prize) for Special Presentations Section:
"Hadewijch" directed by Bruno Dumont
Prizes of the International Critics (FIPRESCI Prize) for Discovery Section:
"The Man Beyond the Bridge" directed by Laxmikant Shetgoankar
Award For Best Canadian Short Film:
"Danse Macabre" directed by Pedro Pires
Honorable mention: "Armoire" directed by Jamie Travis