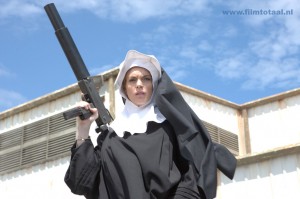 Lindsay has all but lost her career. She will really need a revival to get herself back on track. There has been a lot of talk about her legal adventures and her tearful outburst at the court when her sentence was past.
The new film she is cast in has not been really promoting her because of the ongoing case. She has now resurfaced in some images from the film. She is in full costume with a wild penchant for guns.
Robert Rodriguez wrote the Machete script and co directed the movie along with Ethan Maniquis. The film will follow the new age star Danny Trejo and his revenge filled, score settling exploits.
The film also stars Robert De Niro, Steven Seagal, Don Johnson, Jessica Alba, Michelle Rodriguez, Lindsay Lohan, Cheech Marin and Jeff Fahey.
The film is expected to release on the Labor day weekend. It will be enough time for it to make a truck load of money.