There was some false news about this film Leaves of Grass going straight to a DVD release. But this has been false because now there is new of a theatrical release very soon.
Tim Blake Nelson's Greek tragedy, stoner dramedy Leaves of Grass is finally getting a release dates of April 2 nd right after it appears at the SXSW Film Festival in March. The film stars Edward Norton playing two brothers.
Click the images to enlarge.
The rest of the cast include Keri Russell, Richard Dreyfuss, Melanie Lynskey, Susan Sarandon and Blake Nelson himself. The film was first screened at the Toronto Film Festival. The film is a complex structured film with good doses of comedy to keep it from going into the unwatchable territory.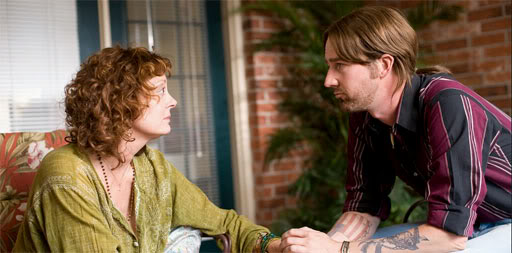 The film centers on an Ivy league professor played by Norton who is lured back to his Oklahoma hometown where his twin brother, a small time pot grower, has concoted a scheme to take down a local drug lord, Sarandon plays the boys mother. Russell plays the love interest.
You can check out some of the new photos from the film. They have finally given us a sneak peak into the look of Keri Russell in the film. Don't miss the film on April 2 nd.