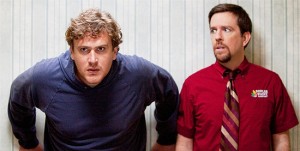 Dysfunctional once again in a Duplass Brother film. They seem to be manufacturing them by the numbers. But there seems to be a lack of coherence in their script. They have a great film inside them but it is yet to be seen. The trailer of this one looks really good. The cast is also really good all play against type. We have Jason Segel and Ed Helms.
Susan Sarandon plays the matriarchal role in this one. Jeff played by Jason is looking out for wood glue. But on the way chances upon his family and is given a chance to see life in a different light. But does it changes for the better and does he get his glue is to be seen.
Jeff Who Lives at Home will be coming to cinemas soon. The anticipation for this film will be good enough for it rise above average.