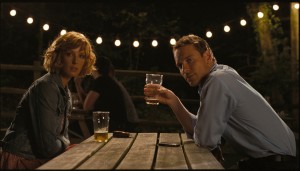 The film stars Michael Fassbender, William H. Macy and Thomas Haden Church as the lead. A Single Shot is based on the adaptation of Matthew F. Jones book of the same name.
The adaptation for the screen will be directed by David Jacobson. The film will center on poacher John Moon who finds himself on the run with a suitcase full of money, a target on his head and hardened killers on his tail. Jones novel has been compared to work of writer Jim Thompson. This is going to be something really perverted.
The story begins with a man who abandons his wife and young son. John Moon sits in his trailer on the mountainside, feeling abused by the world. He has inherited an acre and a half of land from the family farm. He also makes do with odd jobs and poaching fame off state land.
One morning he goes hunting for a deer out of season and winds up killing a young runaway instead. He tries to hide the evidence of his accidental crime. But this crime yields him with a huge sum of money and the girl he finds is not alone as well.
The book takes place in a course of a week and it leads to a mental deterioration in the face of his horrible crime is crux of this novel. This will be something perfectly in line with most of Michael Fassbender's earlier work in Hunger and Inglourious Basterds.