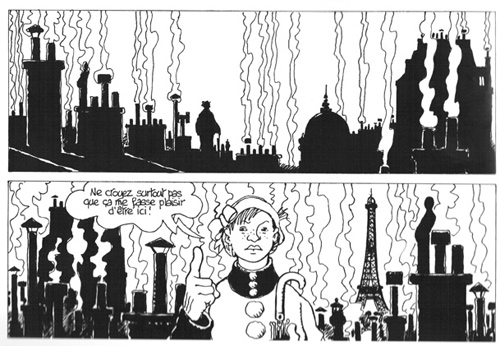 The recent Indiana Jones film was really a mess of the highest order. The film brought together a lot of genre clichés that killed the film. Now Luc Besson has been developing a film for the French audience in the same lines.
Luc is already through with his Arthur films in post production and he is now set on his next project. Now listed as in production is his next film titled Les Aventures Extraordinaire d' Adele Blanc Sec. This will be a planned trilogy of film that will be directed by Besson and is based on a series of comice by Jaques Tardi. The film is described as a world apart.
The year is 1912. Adele is a young reporter, will go to any lengths to achieve her aims including sailing to Egypt to tackle mummies of all shapes and sizes. Things begin to go a little crazy from here on when an age old egg cracks. An egg that is around 136 million year old pterodactyl, it reveals a bird that reign terror on the people of Paris. But that does not stop Adele from getting to the news and finding some surprising revelations.
It is set in the carefree world before the beginning of the World War I, Adele goes ahead battles crooks, corrupt politicians, demon worshippers and mad scientists. Jacques Tardi is known for his keen eye for original stories and also keeping with the times in which the story is placed.
This will be the most anticipated movie of next year. I really can't wait to see this dystopian world comes into being. The film will star some of my favorite stars of all times Mathieu Amalric, Gilles Lellouche and Louise Borguin.