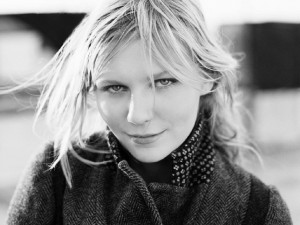 Kirsten Dunst has gone away from all that she holds dear to go and work with Lars Von Trier. This is certainly outside her comfort zone. The lady of Spidreman has just taken a huge step in her career that will hammer her or leaver her liberated. Melancholia will be the new film Lars Von Trier has been trying to cast. He has got more actors than he has expected.
He has already brought on board Charlotte Gainsbourg, Charlotte Rampling, Alexander Skarsgaard and his father Stellan Skarsgard. We also get to see Udo Kier in the film as well. Gainsbourg had given to cinema and had done acts of great bravura which will remain in cinema for some time now.
Penelope Cruz was initially attached to take up the role signed by Dunst. So when Lars lost out on Penelope he got someone even bigger stature in Kirsten Dunst.
The new film Melancholia will be a psychological disaster movie. The film involves a planet whose orbit intersects that of Earth and given Trier's general tone and preoccupations, one would except some small scale representation of the utter panic and terror that erupts on our planet when the situation is grasped. So he is certainly not going to have happy endings. Lars Von Trier should treasure this moment of revival in his career graph. Everyone really wants to get into his films. People want to return back to his maddening caves. So with so many of his older casts returning he certainly can do anything he wants with them and push them to any limits. We will keep you posted on how far he will want to go.