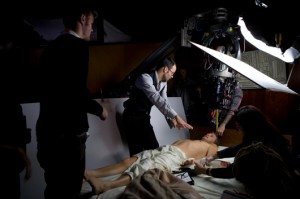 The Toronto Film Festival promises to show case some interesting film this fall. One of them is The Single Man which will be directed designer Tom Ford. So there is a lot talk about what will the designer bring to the film. But the story itself seems to be something of a challenge. The first couple of shots from the film are sure to blow you away. It is an interesting character driven film.
We have also an official synopsis of the film that will surely make a life a little tougher for you art house geeks.
Written by Ford and David Scearce and adapted from Christopher Isherwood's 1964 novel, set in Los Angeles in 1962, at the height of the missile crisis following US invasion of Cuba, A Single Man is the story of George Falconer (Firth), a 52-year old British college professor who is struggling to find meaning to his life after the death of his long time partner, Jim (Goode). George dwells on the past and cannot see his future as we follow him through a single day, where a series of events and encounters, ultimately leads him to decide if there is a meaning to life after Jim. George is consoled by his closest friend Charley (Moore) a 48-year old beauty who is wrestling with her own questions about the future. A young student of George's, Kenny, (Nicholas Hoult) who is coming to terms with his true nature, stalks his professor as he feels in him a kindred spirit. Courtesy (Ioncinema.com)
But the palette of the film certainly looks good with these pictures. But I am really not sure what to expect from the film though it might turn out to be the good surprises of the festival. Please look at the pictures and tell us what to expect from this film.
The film stars Lee Pace, Julianne Moore and Colin Firth in the principal cast. But with such an ambiguous casting we certainly are going to expect special from this one.