What is the driving force which makes us most of the governments succeed in establishing its reign over a community? Its a very basic thing, its fear. They instill this in every walk of their lives. There are people who have gated houses with security cameras and invisible walls which the tresspassers wont know if crossed but the person owning that plot of space would know of it. This great rush to create fear in society is so that there exists some sort of inequality between different people. Children of Men shows us about a similar dystopia where the world has lost its most basic chances of survival fertility. Its a world where nature has taken its toll and doesn't need man anymore. It inflicts its final blow by slowly destroying man by infertility of its whole species.
This is the premise for this harrowing tale of mans journey with a pregnant lady to an unknown place. The film takes place in London when the whole world has been destroyed by man itself. London remains to be the shiny beacon for the future generation. The time is 2012 and the world has just witnessed the death of the youngest man in the world. On the top of this, there have been several terrorist attacks on the government because of their strict laws against immigrants.
The film has been shot through the eyes of Theo played by Clive Owen. He is a worn out rebel who works a really boring job and leads a boring life. There have not been anything unusual in his life for quite a while. Then, after kidnapping encounter he finds reason to live. He meets his wife who is still a rebel and wants to fight against the government. She asks for transit papers for a person. But she dies in an encounter in the woods. This scene is a landmark sequence because of the fact it is one fluid take/single shot. They had to use a Doggicam which was placed inside the car with Director Alfonso Cuaron and cameraman sitting on the top of it. This scene is a cinematic marvel in itself.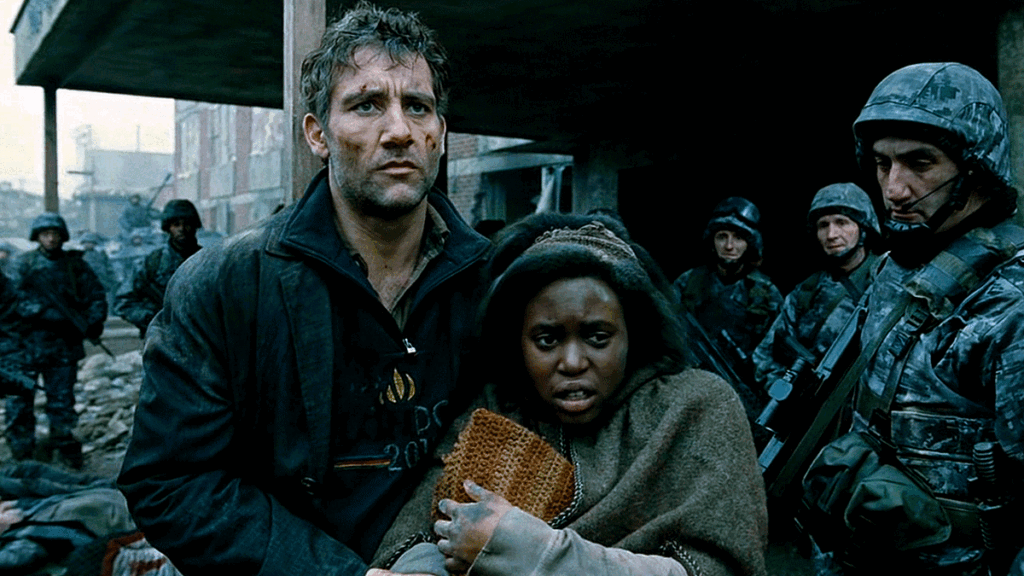 But this movies biggest strength is in using special effects in its most minimal forms. The effects are used in a very subtle manner giving the whole movie a lot of depth. The camera which makes keen moves in very closed spaces giving us tension which is relevant for a film in this scale. It is one of the strongest science fiction movie I have seen in many years.
The other big scene is when the pregnant lady gives birth with sounds of gun fire and people screaming. It gives sense of hope at this most trying times. This is what gives this science fiction film its edge. It is a very thought provoking piece of art with some imaginative images.
The performances in this movie almost enhances its value. One of the most noteble ones is Clive Owen who inhabits the character Theo and rides along the different changes he goes through at various intervals of the movie. Then there are some short roles played by both Julliane Moore and Michael Caine that add just the right amount of character depth this film needs. This movie gives us an endless journey but its not the journey which is the main theme but more of what we might turn into.