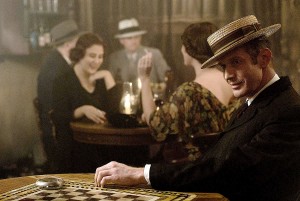 The guy, who has played a role in both Guy Ritchie and Mathew Vaughn movies, is all set to star in another Mathew Vaughn. He will be playing a much loved character from the X Men series. Jason Flemyng has given confirmation that he will be appearing in the X Men:First Class movie.
"Matthew showed me my costume just the other day. Now I swore I'd never be in heavy make-up again, but this role is going to involve it," he said. "I am Azazel, and I can teleport by waving my arms [gestures like a cross between a flamenco dancer and Bollywood star]."
Source: Firstshowing
He is one of the few actors who is acting in most of his films. He will be playing Azazel and will be in red. I think everyone is excited about the film. All the actors are really showing a lot of support to Mathew Vaughn. Many of the actors think that their role can probably redefine their careers.