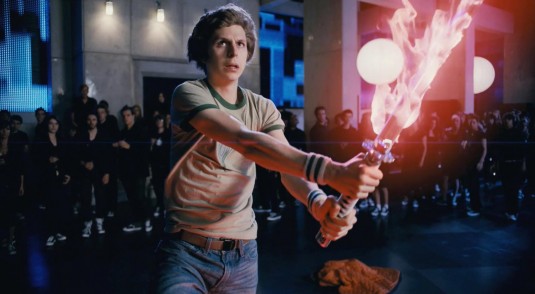 Scott Pilgrim vs. the World easily has more pure, unadulterated energy packed into it than any other movie released this year. The whole experience is a comic-book-meets-video-game extravaganza that refuses to catch its breath even as it collapses upon itself. Although the final product is a bit rough and the movie compensates by grabbing the audience by the solar plexus and shaking violently.
From the Norman McLaren-esque opening credit animation to the dizzying climactic battle, the movie is filled with more colorful, tinsel-y effects than a Christmas tree in a discotheque. The comic book roots of Scott Pilgrim are always at hand. Sounds are visually illustrated with onomatopoetic words written in big, bubbly letters, bringing to mind a 1960's Batman fight scene. In a brave new cinematic world of fast camera movement, quick editing, and loud noises, Scott Pilgrim half nelsons the attention of even the most distracted of teenagers.
This is a good thing, because the movie tries really, really hard to appease the high demands of thirteen to twenty-one-year-olds. In fact, the attempt to market to the top movie-watching demographic may have been a little too brazen. Older viewers may leave the theatre scratching their heads.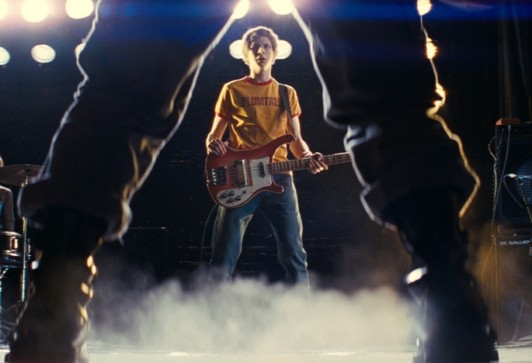 And while the movie is fun to watch, the plot is more than a little tacky.  Scott Pilgrim (Michael Cera) is a pretty normal guy. He and his friends keep busy with their alt rock band. He dates quite a bit, but is ultimately unsatisfied by his romantic relationships. His hair is unkempt, and he usually sports a vintage t-shirt. He lives in suburban Toronto, which has frigid chills and is apparently completely populated by late teens and twenty-somethings.
But when this titular protagonist stumbles into the beautiful and mysterious Ramona Flowers (Mary Elizabeth Winstead) at a party, he is at a loss for words. Ramona is nothing more than the hollow shell of a personality, but that is okay; the audience can tell she is an all-right person because she dyes her hair fun, unnatural colors and wears fuzzy sweaters. The two begin dating—but wait! There's some fine print!
Before Scott and Ramona can officially embrace in coupledom, Scott must duke it out with Ramona's seven evil ex-boyfriends, each equipped with their own superpower. There's no real rhyme or reason to this, and the fights are all silly and exaggerated—but you're just going to have to accept it.
Director Edgar Wright (Hot Fuzz, Shaun of the Dead) has a lot of material to work with here, and he does a pretty good job piecing it together. The film is loaded down with non-diegetic effects, and he does everything from manipulating the aspect ratio to providing confusing jump cuts that toy with the audience's spatial understanding.
Unfortunately, the film's biggest strength is also its biggest weakness.  There is a lot going on in the film. Often subplots and unnecessary characters get left in the dust simply because the movie does not have the strength to support them. It's like juggling five chainsaws and two rubber balls: it's better to not worry about the balls and focus on the real issues.
Scott Pilgrim vs. the World is, nonetheless, a very fun, trippy ride. It has a sense of style all its own, and it isn't afraid to bask in its own post-modern bliss. It's action packed and has a handful of extremely funny laughs. But in the end, it has the resemblance of a hipster soccer mom: completely aware of the trends and contentions of today's youth, but trying just a little too hard to be cool.
[rating:6/10]