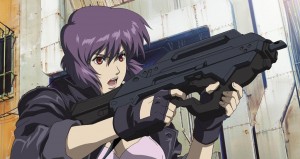 It was announce almost two years ago about the development of this project. The new live action film adaptation of the beloved manga Ghost in the Shell is in slow track even now. The film is still in the pre production stages of the film. There is also news that Laeta Kalogridies. She is writing the script for Steven Spielberg.
Laeta has been up and running for the promotion of her film Shutter Island. She answered some questions of her adaptation to some of the press. The original series was written by Masamune Shirow and directed by Mamoru Oshii.
Ghost in the Shell was originally the manga. The anime came from the original graphic novel. It was then turned into an Anime. It became one of the ground breaking pieces of filmmaking for anime. This adaptation will be from the original manga.
There was also a discussion of what is the approach they will be trying for the adaptation to the big screen. She added there will be a lot of action and some more. There is also going to be some clever use of the atmospheric elements of the original anime series. There is also going to be the misuse of the entire limitless tech at our disposal which will be discussed.
This will be sometime before we see this on the big screen. So many of the aspects will be looked into in this film and will be carefully reviewed by Steven Spielberg. Ghost In The shell will hopefully something to watch out for in the big screen.