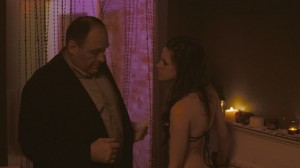 The Sundance Film Festival will be hosting some really interesting independent films this time round. One of the highly anticipated ones is the Kristen Stewart, James Gandolfini and Melissa Leo film called Welcome to the Rileys. The film stars the box office star Kristen Stewart from the Twilight franchise.
Stewart will be playing a dancer and prostitute in the film. She follows a damaged man who seeks salvation while on business trip to New Orleans. He reaches a middle path when he meets Stewart's character Mallory. Gandolfini and his wife played by the reticent Melissa Leo are driven apart by grief after the loss of their daughter.
Click the images to get the high resolution image.
"It's an independent movie that nobody would normally see," Stewart said. "Now it's like, 'Oh, let's go see Bella in this stripper movie – it'll be crazy!' Working with James Gandolfini and Melissa Leo, who is just incredible, was the most fruitful life-changing experience on a movie that I've ever had."
The nerves are certainly going to be there for Kristen after acting in one of the highest grossing films of this year. She was also a little chatty about the independent film "It was just the hardest subject matter I've ever had to deal with – I play a very broken young girl who is a runaway. She's a street kid. She's working in a strip club and James Gandolfini's character is just as dead inside as she is – and they wake each other up."
The film will surely get a distributor the moment people know Kristen Stewart is in it.