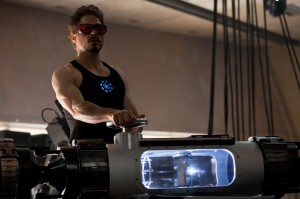 We already posted the new poster from the Iron Man 2 movie. Everybody seems to be really excited for this one. Now we have couple of serious photos from the film that will hopefully not lead to a change of mood in this one.
Tony Stark will be played by Robert Downey Jr. So he is just exuding cool and getting geared up for a fight with Whiplash. Scarlett on the other hand is looking slinky with her really tight fit costume. There is also a lot of time spent by Tony researching some doomsday device. Whiplash can also been seen creating something that will spell the end of the Stark industries. Some of the images a little old but the only advantage is that they are high resolution ones.
Click the images to access the high resolution images.
The film is all set to start coming out by May 7 th 2010. The film is going to be the most anticipated film of next summer.