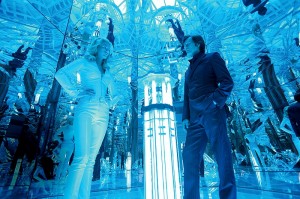 Fox has released the new image from Matthew Vaughn's X Men First Class. The image shows off villains Sebastian Shaw and Emma Frost. The room gives a eerie feeling and adds nice tone to the characters.
X men first class also stars James McAvoy, Michael Fassbender, Rose Byrne, and Oliver Platt. The film opens in the US on June 3 rd.
Here is the official synopsis.
X Men First Class charts the epic beginning of the X Men saga, and reveals a secret history of famous global events. Before mutants had revealed themselves to the world, and before Charles Xavier and Erik Lehnsherr took the names Professor X and Magneto, they were two young men discovering their power for the first time.
The two of them were close friends in the beginning, working together with the other Mutants, to prevent nuclear Armageddon. In the process, a grave rift between them opened, which began the eternal war between Magneto's Brotherhood and Professor X's X men.
The film stars James McAvoy, Michael Fassbender, Rose Byrne, January Jones, Oliver Platt, and Kevin Bacon. Matthew Vaughn directs the new film. Bryan Singer will be producing the new film.