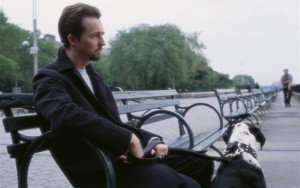 Edward Norton has made less than 30 films in the last 13 years in the industry. He takes his time with each role and is not worried of throwing away his box office star status. He has been after directing a film based on the novel by Jonathan Lethem called Motherless Brooklyn. He is trying to secure the funds and also in the pre production stages of the film.
"It's partly a function of my time, just weeding through other things that I've made commitments to and finding the time for myself to finish the script," Norton explains. "I'm underway with it. The nature of the story, needing to find the right way to make that film…but a lot of it has to do with my time. I'd like to clear up some other things first, but I will get around to it."
Lethem's noevel centers on a Brooklyn detective in 1999 who has Tourette's syndrome and displays its symptom of involuntary tics. These involuntary tics involve the person mouthing words in the person's mind but not what he intends to say.
Norton was attached to write and direct this for some time now. He is also planning to act in the film. There was talk that this film will be a follow up to Fight Club but nothing seem to materialize. The film has great potential of being some really racy and thriller based. But it is the work on the disease that will make all the difference to this story.
Edward Norton also works on a slow progression. He wants things to really simmer to create something unique. He also needs time to himself to work on the story and other aspects.
"I just don't have any relationship with it yet as a director," Norton adds. "I think I'm going to wait until I do it to talk about it. I don't see any upside, really, in explaining it before I've even done it. I'm only halfway through writing the script, so I can't really talk about it yet as a director. I'd say any relationship to it as a director is hypothetical at this point. I mean, I have an idea about it that I'm trying to get on the paper right now."
So will Edward finally come to writing this film is the question. But it is a question best left unanswered for all the bad that time can do to a film.