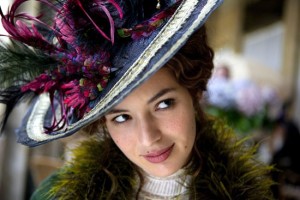 This is one film that is sure to make loads of people sit and think about the future of the digital age. Luc Besson has been on and off this project for sometime now. Finally we got our hands on some photos from the project. The film is expected to be out by April next year. These photos look gorgeous.
The year is 1912. Adele is a young reporter, will go to any lengths to achieve her aims including sailing to Egypt to tackle mummies of all shapes and sizes. Things begin to go a little crazy from here on when an age old egg cracks. An egg that is around 136 million year old pterodactyl, it reveals a bird that reign terror on the people of Paris. But that does not stop Adele from getting to the news and finding some surprising revelations. Click the images to get the high resolution images.
It is set in the carefree world before the beginning of the World War I, Adele goes ahead battles crooks, corrupt politicians, demon worshippers and mad scientists. Jacques Tardi is known for his keen eye for original stories and also keeping with the times in which the story is placed.
The first couple of pics from the film shows the title character played by Louise Bourgoin in the title role. This is going to be one of the most anticipated films of the year by far I guess.