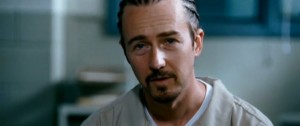 He has been working with John Curran on two of his films Painted Veil and the recent drama Stone. He will be collaborating with him once again for an HBO show. Norton has said that he plans to develop a historical miniseries based on the Stephen Ambrose book called Undaunted Courage, a biography about the famous explorer Meriwether Lewis and his journeys with William Clark.
The film will not just deal with the events, but will assess the military leadership of Lewis and Clark, how they negotiated with various native people and what they reported to Thomas Jefferson. The series is going to be a big one so there will be a lot of planning to be done for this. Edward says,
"We're trying to assemble [the miniseries], and it's very big. It's so out of scale with anything my partners and I have produced. It's a very interesting set of equations to get something like that made. We're pretty thick in that right now."
This will be a series bigger than John Adams in stature. Norton will be perfect to develop this so there will be a lot less compromise in the show.