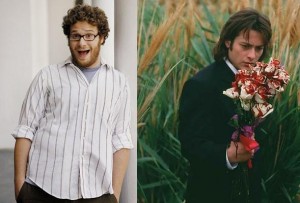 Seth Rogen is keeping tight lipped about Edward Furlong's role in the Green Lantern. Everyone is totally sure that this one is going to be a big dud. But Seth Rogen says he will blame the director if it does bomb.
It has been while since we have seen Edward Furlong in American History X. After that has been no sign of this guy for ages. There were rumors of drug abuse and some domestic problems that pushed him away from the limelight. But there is no taking the fact he is a powerful performer.
I really have no thoughts on the decision of casting him in this film. But Michael Gondry has made some truly remarkable films like Science of Sleep and Eternal Sunshine of the spotless mind. So there is no sour bone in his filmmaking. So we can be just hopeful of this one and wish that Seth Rogen doesn't make an ass of himself (I guess that will be fun to watch also).