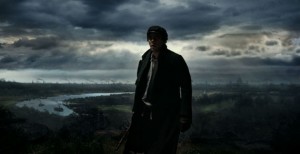 Benicio Del Toro looks a little bit too pale in this remake of The Wolfman. The first trailer that we showed was more of a commercial fare and nothing really happening. This one seems to be a lot of the footage from the re-shoots. But the film has gone through some really bad buzz because of the new cut and also indefinite delay.
There are also some interesting stills for this movie. Lot of the cast has been featured in these stills including Anthony Hopkins, Emily Blunt, Hugo Weaving and of course Benicio Del Toro. But this is an all out commercial fare which might not have many takers upon release.
Toro has been repeatedly talking about a vintage look for the film. But only with this trailer some of what he has said has been shown. The price to make this film is still not clear with so many different sources claiming around 100 million after the re-shoots. The film will be released in Feb next year so it won't be doing the summer. So let us put our fingers crossed and hope for the best. The film is directed by Joe Johnston a name you can't trust. So we will keep you updated on the nature of this film.