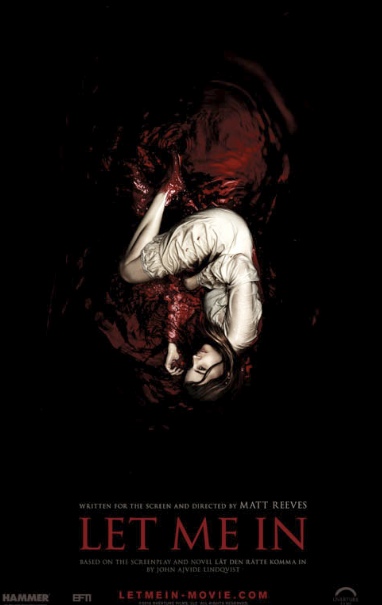 Chloe tries to work her magic once again with the Let Me in poster. The film is based on the original film Let The Right One which his based on the book by John Ajvide Linqvist. Here is a huge synopsis that will give you an idea of this horrific film. I have really grown tired criticizing this film. We will have to wait and watch for the next trailer.
It is about an alienated boy who befriends a mysterious young friend in his small New Mexico town, and discovers an unconventional path to adulthood in Let Me In, a haunting and provocative thriller written and directed by Matt Reeves.
Kodi Smit McPhee is playing the boy who is mostly bullied? So he spends his days plotting revenge. His only friend moves into his neighborhood, but she has another agenda. Chloe Moretz plays Abby who lives next door with her father played by Richard Jenkins.
The town grows suspicious after several mysterious deaths plague the whole place. People try to find out the cause of these problems.