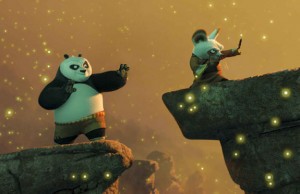 There is a lot going through the producers of the sequel to Kung Fu Panda: The Kaboom of Doom. The film is going through a lot of rewrites. The biggest additions to the rewrites include Charlie Kaufman. There is also the presence of Gary Oldman to the fray to make this something to watch out for.
Kaufman has been working for two weeks on the script of Kung Fu Panda. But this article is just to show what all stops studios will go to make their product stand out from the rest. This is what Charlie had to say about his presence is the writing process.
I came in about four writers into the process. It's kind of hard to write a "better" scene than the last writer when the rules are that you can only change 30 percent of each scene or completely change 30 percent of the scenes, per Katzenberg screening. So, for instance, in this scene, the panda comes up a flight of stairs carrying a bucket of water, slips on a banana peel, says something to two geese and does an air guitar. The good news? There can be anything in the bucket. Your mission: make the movie better.
They do this cycle like 30 times and the end result is a movie created over three years by 7 terrified directors and 20 pissed off writers, none of whom get any back end because it's an "animated" film, therefore no matter how bad it is, it turns like an 8,000 percent profit, and they make another one and another one and another one…
Charlie Kaufman is not really happy with the current scenario of how the studios are just using good screenwriters so as to get some head weight for their projects.
On the other hand Oldman will be taking on a character named Peacock who helps Po find bandits but is more than he seems. So after the fluke which Dreamworks got with Kung Fu Panda. They are really trying to find a foothold in all their productions.