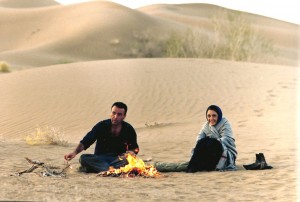 After his success in the recent Cannes with Certified Copy; he will be hard at work on his next project called Father and Son. Abbas Kiarostami's film Certified Copy won the Best Actress at the Cannes Film festival for Juliette Binoche.
Abbas is known for his films like Taste of Cherry and the powerful Ten. Certified Copy was his first films outside his native country Iran.
Let us get into Certified Copy first. The film has a terrific performance from Juliette Binoche and William Shimmel. The film follows an art dealer played by Binoche who invites a celebrated author to meet with her the day after he has arrived in Italy to receive a prestigious award.
He will be returning to Iran with his next film called Father and Son. It will be rolling in September this year. The film will star Hamed Behdad who worked in No One Knows about Persian Cats. At a Cannes press conference Abbas gave very details about the project. "It's quite hard to say what it's about because it does not have a narrative structure, but it's from an idea that I've had for several years."
It is nice to see that Abbas is getting back to work on his future projects and will see more of him soon.