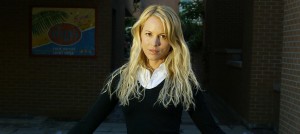 It is difficult to take your eyes of some of the performances given by this woman in films like History of Violence and the Cooler. So it is really nice to see her get work on Walter Hill's St. Vincent. The film has got a new lease life with this news.
Pierce Brosnan, Billy Bob Thornton, Maria Bello and Giovanni Ribisi have joined the film. It follows a hitman played by Brosnan who goes undercover as a priest to get close to his target a gangland traitor. Now after playing the good guy kind of affects him after a while. The concept will keep hooked on to this one.
I would like to see Maria Bello playing a seductress and the one who gets Brosnan confused on his misled career.