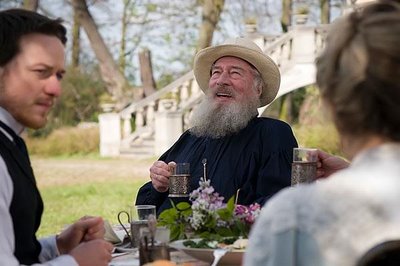 Michael Hoffman's Last Station is surely one of the most expected movies of this year for us. The film stars Christopher Plummer and Helen Mirren. The film is about the last days of the famed Russian author Leo Tolstoy. Helen mirren will be playing his fiery wife, Countess Sofya.
The film was premiered at recent Telluride festival. The film was filled with people who were loyal supporters of the writer. The film feels a tad too simple for many of the viewers who attended the function. The film has its light moments and is sure to get distributor as soon as the festival season is out. Paul Giamatti plays one of Tolstoy's able disciples. While Christopher plays the author with not so much as a whisper.
But the biggest surprise of the film was surely James McAvoy who offers the films richest performance. He has surely got the hands up from most of the critics. The only hitch was the fact that the film was made in English which might have been a little disorienting for the audience.