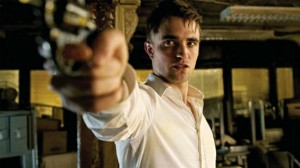 A new teaser is out for the short story adaptation of Cosmopolis by Don DeLillo. The film stars current heart throb Robert Pattionson as a multi millionaire who spends 24 hours crossing all of Manhattan in a limo. The film seems to be borderline insane which is surely a good thing. The film is filled with Bizarre occurrences and an authentic parade of crazy characters along the way.
The footage is quiet unexpected with nudity and some powerful violence. David Cronenberg writes/directs this adaptation following a wealthy asset manager who crosses the whole of Manhattan across 24 hours in a stretch limo just for a haircut. All his money is about to go and he risks loosing his wife.
The film stars Sarah Gadon, Kevin Durand, Jay Baruchel, Samantha Morton, Juliette Binoche, Paul Giamatti and Mathieu Amalric. The film is expected to hit theaters sometime in early May. Tell us what you think of this powerful teaser.