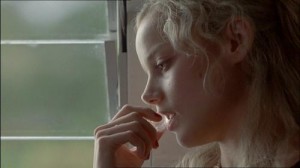 She looks taking roles of substance after her stint in many studio films. She has slowly strayed away from them. She will be next seen in David Riker film called The Girl. The film was pre sold at the Cannes in May.
The film will be directed by David Riker and it will be based on his award winning script. Cornish would play a young Texan mother who loses her child to foster care and begins smuggling Mexicans with an orphaned eight year old girl from Oaxaca for company.
Cornish have loads of films on her plate currently. She will be seen in Sucker Punch, The Dark Fields and even the Madonna film W.E. They are all mostly in post production. So she has a little free time to get into the skin of this character. So this might look like a sure fire possibility for the director.
Source: IONCINEMA