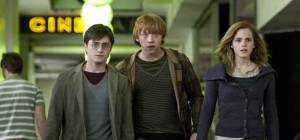 The Deathly Hallows is going to be big when it comes out by the end of this year. There is going to be two parts for the film. We will get to witness the first part in November this year. Harry Potter and Deathly Hallows will decide the fate of Harry Potter and Lord Voldemort. This film will be certainly epic when it comes around.
Here is a beautiful featurette, which showcases some of the big battles from the film. The first full length already told us that it is going to be the movie for this generation. So it has to be seen if they were going a little far out with that comment.
The new film will be directed once again by David Yates who made the last two films Order of the Phoenix and Half Blood Prince. The script was also written again by Steve Kloves, of Sorcerer's Stone, Chamber of Secrets, Prisoner of Azkaban, Goblet of Fire and also Half Blood Prince. The books are based on the famed writer J.K. Rowling and the new film will arrive on November 19 th.
Source: Collider