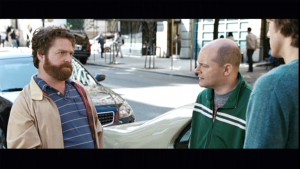 Dreamworks has brought rights of Zach's next film called Reply All. Zach has become a huge household name after his work on Hangover. This year he will be out with the next Todd Phillips movie with Robert Downey Jr called Due Date. He will also be seen in the sequel to The Hangover.
Now Todd Phillips talks about another project called Man-Witch which just went out the door.
"And that came, quite honestly, from Jack Black backing out of a movie I was doing. I thought, 'F**k this f**ker. I'm going to make a new Jack Black out of Zach Galifianakis,'" he said.
Deadline once again reports that Dreamworks has bought the comedy, Reply All, which the bearded comedian is attached to star in. The film will be written by Phil Johnston. There are no details out on the plot of the film yet. Meanwhile for all those people waiting for another Zach film Due Date will be out on November 5 th.