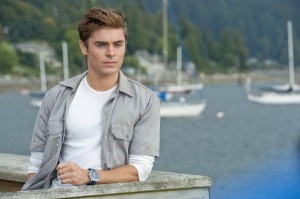 He seems to be following an unbeaten path, but it is blissfully take on projects by the writer Nicholas Sparks. The writer keeps bringing stories for several stars to get there shining. Now here is another novel titled called The Lucky One. Will Fetters will be writing the script for the film.
The film will be something for the girls. It tells the story about a marine who carries a photograph of an anonymous woman in his pocket during his three tours in Iraq as a good luck charm. Upon returning to the Tar Heel State Efron's character takes upon the task of trying to find this good look charm. So the girls will go wild for this one.
Efron has not officially signed up for this one. There will be a confirmation for this one. But it is time to move on the puppy love films he made with High School Musical. Zac Efron has not really got the project to put himself out there. But in order for that to happen he has to give in to a lot more mistakes.
Efron has another project in the pipeline called Die in a Gunfight. The script is based on an NYU graduate Andrew Barer. It is a Tarantino-esque blend of Gossip Girl, True Romance and Romeo Juliet. The first reference killed it for me. Here is a small synopsis of that via Collider.
"Efron would play Ben, an underachieving, deadbeat son of a famous New York high-society attorney who gets himself in over his head when he falls for the daughter of his father's nemesis — a girl who is already busy being stalked by an obsessive French professor."
The Lucky one is set up at Warner Bros and will be his next film. Efron also has Charlie St. Cloud in the offering which will get all the girls to the theater. He also has 'Fire' a comic adaptation and a remake of Swedish thriller Snabba Cash. Charlie will out on Friday, July 30 th.