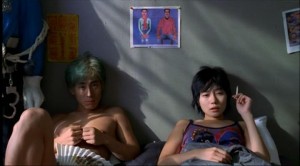 I think many people around the world were revealed that the Oldboy remake was shelved. Both Will Smith and Steven Spielberg have walked out of that mess. Now here comes the second part to this ongoing Park film fetish.
There is already news that they will be making a Thirst remake which is also not needed. The film will be produced by Vertigo Entertainment. The vampire genre is still throwing itself out there. So they will be trying to take another stab just before the last of the Twilight movies come out.
Now the news is just in they want to make another Park Chan Wook remake. This time it will be another go at the vengeance trilogy. The Sympathy for Mr Vengeance will be the next movie to see the light of a Hollywood studio. The producer Lorenzo di Bonaventura will be taking the reigns for this one as well.
This one is not as dark as Oldboy. It is also stylistically very different. There are still scenes that will cause a lot of repulsion to audiences over here. Hollywood has slowly lost the idea story. It is trying to go to the South east Asian countries to look for meatier stuff. But eventually they will Americanize and kill the basic essence of these stories.
This is surely going to make an ongoing debate on whether such remakes are really called for.