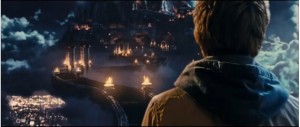 Finally a good trailer after so many months: it was like a drought. The international trailer of Percy Jackson and the The Lightning Thief has never looked this good. The special effects are really top notch in this one.
This is surely not a Harry Potter rip off which the first trailer made it look like. But yes the film is directed by Chris Columbus, the guy who directed the first two Harry Potters. It is based on an young adult novel by Rick Riordan. Once again this is also a huge series of books. It tells the story of a boy who discovers he is the descendant of the Greek Gods, only to be in the middle of a god war.
The cast of the film is the best thing ever. They have Pierce Brosnan playing Chiron, Uma Thurman playing Medusa (sigh), Sean Bean as Zeus, Kevin McKidd as Poseidon, Rosario Dawson as Persephone, Serinda Swan as Aprodite, Erica Cerra as Herra, Luke Camilleri as Dionysus, Dylan Neal as Hermes and Melina Kanakaredes as Athena. This is a huge cast with a large number of Gods. I can't really wait for this one to come out soon.