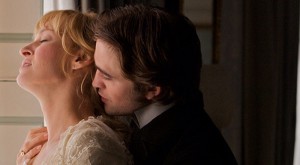 This is really a bad adaptation of the Guy De Maupassant story. The melodrama seems to ruin the whole proceedings. Robert Pattinson seems to have lost his barrings in his thirst for power and women.
Bel Ami is the story of Georges Duroy who travels through 1890s Paris, from cockroach ridden garrets to opulent salons, using his wits and powers of seduction to rise from poverty to wealth, from a prostitute's embrace to passionate trysts with wealthy beauties, in a world where politics and media jostle for influence, where sex is power and celebrity an obsession.
The supporting cast includes Uma Thurman, Kristin Scott Thomas, Christina Ricci, and Colm Meaney. The film is directed by Declan Donnellan and Nick Ormerod. Bel Ami is expected to be screened at the next Toronto Film Festival in September.