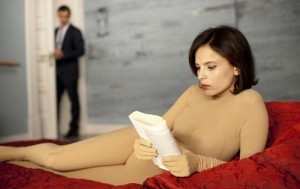 The new film by Pedro Almodovar is going to shock a lot of people in the coming weeks. In the process of taking revenge against the man who raped his daughter, a plastic surgeon imprisons and torments his partner in an operating theater in his basement.

La Piel Que Habito Teaser / flix.gr by Flixgr
The new trailer really packs a punch in under 30 secs. The Skin I Live in is one of the powerful looking films of Pedro in recent times. He was able to get out of his writer's block with his last film Broken Embraces.
The cast also includes Marisa Paredes, Antonio Banderas, Jan Cornet, Roberto Alamo, Blanca Suarez, Eduar Fernandez, Jose Luis Gomez, Barbara Lennie, Susi Sanchez, Fernando Cayo and Teresa Manresa also star in the film, based on the novel Tarantula by Thierry Jonquet.
Here is a synopsis via Collider.
Ever since his wife was burned in a car crash, Dr. Robert Ledgard, an eminent plastic surgeon, has been interested in creating a new skin with which he could have saved her. After twelve years, he manages to cultivate a skin that is a real shield against every assault. In addition to years of study and experimentation, Robert needed a further three things: no scruples, an accomplice and a human guinea pig. Scruples were never a problem. Marilia, the woman who looked after him from the day he was born, is his most faithful accomplice. And as for the human guinea pig…
This will certainly be something to watch out for. Tell us what you think of this trailer.