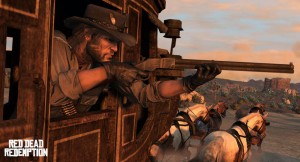 Talking films was really waiting out for this 30 minute trailer director by John Hillcoat for Red Dead Redemption. After seeing Road I just want to see everything that John Hillcoat has done. The short gives us a glimpse inside the life of an outlaw John Marston as he journeys through the vanishing American west seeking out his former brothers in arms, all in the name of justice. This sounds like a perfect plot for a John Hillcoat movie somewhere in the Proposition territory.
As David said previously, "Hillcoat's 2009 film The Road proved that Hillcoat has the ability to craft a dark, thematically rich drama, but Hillcoat's Proposition also showed that he has a knack for westerns."
The whole trailer can be watched above but viewer discretion is advised. So punch in your date of birth go ahead and watch it. There is a list of varied character and morally ambiguous situations that greet John the main protagonist at every turn. Hillcoat works on the whole look of the game to bring it to a broader audience.
Here is a brief outline of what to expect from the trailer.
America, early 1900's. The era of the cowboy is coming to an end. When federal agents threaten his family, former outlaw John Marston is sent across the American frontier to help bring the rule of law. Experience intense gun battles, dramatic train robberies, bounty hunting and duels during a time of violent change. Red Dead Redemption is an epic battle for survival in a beautiful open world as John Marston struggles to bury his blood-stained past, one man at a time.