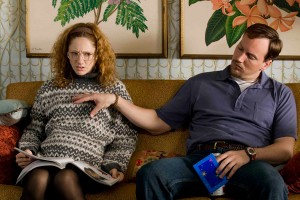 This is surely not for people who are about have their lunch right about now. Patrick Wilson seems to be getting lot good things coming his way. Barry Munday will surely make you think of the things you miss out on life. Patrick Wilson is surely going places in the next couple of years. He is trying his hand in comedy now. His look has totally been altered for this film.
Barry Munday wakes up after being attacked to realize he is missing his family jewels. To make matters worse, he learns he is facing a paternity lawsuit filed by a woman he can't remember having sex with.
Barry Munday is both written and directed by Michigan born filmmaker Chris D'Arienzo, who is making his feature length debut after writing a couple of scripts in 2000. This is an adaptation of Frank Turner Hollon's 2003 novel Life is a Strange Place. The film will premiere at the SXSW Film Festival this month but doesn't have distributor yet. I'm sure it will get one in the coming months, I really cant wait for this.