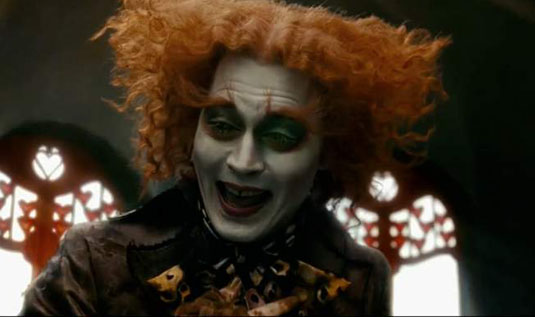 The past couple of weeks there have been whole lot of negative buzz going around for the film Alice in Wonderland. One of the major issues was the soundtrack of the film that is just plain bad. Danny Elfman seems to be trying to hard to get the towering music which the director has tried to ask for. There seems also a lot of repetition of scenes from Sweeney Todd in the form of a flashback. But one and only one thing stands that is the madness behind the Mad Hatter.
There are very few actors who can bring in freshness to any of his roles. It is worth a single viewing for what Johnny Depp selflessly gives to the film. He is driven by a momentum that seems to stem from a seminal thought process: An actor par excellence. Very few of the moments will linger in your mind. Helena Bonham Carter has also vested a great deal of grace to her role. Her sequences with frogs need to be watched to digest the comic timing. But loads of the characters are meaninglessly placed in and around her very tight castle. This is one of my concerns there has not been a great deal of thought gone into many of the sets. It feels like a half baked effort on the part of the director.
It is this spatial arrangement that has kind of killed much of the depth in many of the scenes. I would say a lack of richness is a cause of concern. There is a lot of time spent in characterization which could be interesting if there were a lot more details. The tone primarily used around the film is dark with hues of colors for taste. A candy that is better chewed than savored. Will it take over the mantle of Avatar? I hardly see that happening.
Where are we going with all this darkness?
What if investing in it leads to a loss of good content? Loss of good content is a cause of concern for many of the studios. Not a single star can assure you a safety net unlike before. There needs to be a careful examination of what is perceived to be good. Studios need to have a lot less control over content. A control that needs to be more sentimental is more warranted. The end seems to begin for the Great American film.
[rating: 5/10]