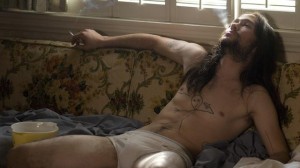 Spencer Susser's Hesher will be something to watch out in the coming weeks. The film was released last year at Sundance and still did not get a release date. The film stars Natalie Portman, Joseph Gordon Levitt and Rainn Wilson.
A trailer has finally landed for Hesher and it really gives the first glimpse at the film and it will be something special. The film centers on a teenager and his father who are forced to move in with the boy's grandmother after the sudden and tragic death of their mother/ wife. A young man with a troubled past named Hesher played by Joseph Gordon Levitt assumes the role as both mentor and tormentor, while a young grocery clerk steps in to protest the teenager, and becomes the object of his fantasies.
Wilson surprises in a straight dramatic turn will Gordon Levitt doesn't disappoint as the titular anarchist. Hesher will his SXSW next month.