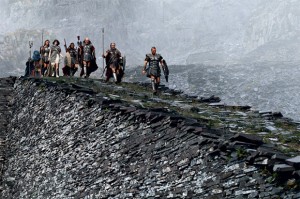 The film is decked with an amazing star cast. But it will surely be what the director can do with them that really matters. Clash of the Titans is a film that will be one big summer box office film. Even though the director's last film The Incredible Hulk lost its way but Edward Norton tried his best on that one. So there is nothing of a back track for this director.
It is a remake of the classic film using some really beautiful stop motion effects. The first trailer for the movie has finally come out. So I think everyone is going to jump up the wall for this one. Sam Worthington will be once again in the thick of things in this film as well.
The official teaser is not something that will take you to the theatres. But I guess it is cast that will just pull you in to this one. But if you have any memories of the Incredible Hulk erase it. We had loads of set photos which you can check out after the trailer.
Clash of the Titans is more of a power struggle and forces that are beyond man's control. The film has also some bright shinning supporting cast in Liam Neeson, Ralph Fiennes, Gemma Arterton, Danny Huston and Jason Flemyng. It will be in theaters in March next year.