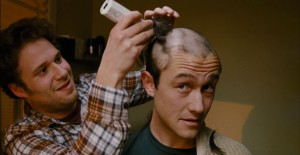 The dramedy genre has been on for sometime now. It has not really got success at the boxoffice. It will surely take time to grow on them. This year we had The Beaver that really did not do really well for itself. Here is another film called 50/50 and the stars of the film introduce it before the trailer begins.
It stars Joseph Gordon Levitt and Seth Rogen as the stars of the film. It tells the story of a man who deals with cancer and the struggle he has with it. The film will have Joseph Gordon Levitt taking on the role of a man struggling with cancer. It is written by Will Reiser and is also based to a certain extent of what he went through with cancer.
Levitt will be joined by Seth who will be playing Adam's best friend Kyle who is trying to help him out through the struggle. The film also stars Anna Kendrick, Bryce Dallas Howard, Anjelica Huston, Philip Baker Gall, and host of great casting choices. Check out the trailer and tell us what you think of Seth Rogen in this new film. We will have to wait and watch how this will sit in with the audience and the critics.