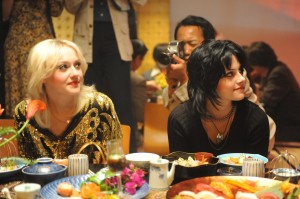 Here are a couple of new images of the cast from the film Runaways. These were released before but right now it is in high definition. I think this will be something for the independent fans of Kristen Stewart who really are excited about the new film.
The Runaways follows two friends Joan Jett and Cherie Currie as they rise from rebellious Southern California kids to rock stars of the now legendary group that paved the way for future generations of girl bands, They get influenced by a Svengali like influence of rock impresario Kim Fowley, who turns the group into an outrageous success and a family of misfits. I think the image these women exuded changed a whole generation of woman.
Here are some of the high resolution images from the film click to enlarge.
They were known for their raw talent. Joan is the band's pure rock and roll heart, while Cherie, with her Bowie Bardot looks is the sex kitten. Runaways is expected to hit theaters on March 19 th. The film will be starring Kristen Stewart, Dakota Fanning, Danielle Riley Keough, Scout Taylor-Compton and Michael Shannon.
The film will have its worldwide premiere at the Sundance Film Festival on January 24 th.