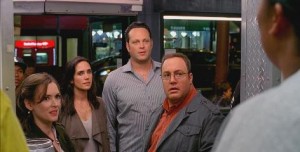 Here is another trailer from the comedy by Ron Howard. It has been a while since he has gone into the genre he is more comfortable with. The film stars Vince Vaughn, Kevin James, Winona Ryder and Jennifer Connelly. This trailer feels a lot better than the previous one.
It really does not have enough gags to pull off a winner for next year. It tells the story about a man who finds out that what you don't say to a friend is just as important as what you do.
The script is based on Allan Loeb. He has been in demand and has wrote films like Things we Lost in the Fire, 21, The Switch, Wall Street: Money Never Sleeps. The Dilemma will be coming to theaters on January 14 th next year.