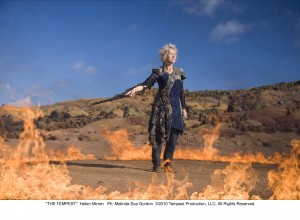 Our little life is rounded with sleep. Titus was a pleasure to watch, but this one seems to be in the same world as that. But I just hope it is not all style and works on the substance to create something catastrophically real.
Here is a synopsis.
In Julie Taymor's version of 'The Tempest,' the gender of Prospero has been switched to Prospera. Going back to the 16th or 17th century, women practicing the magical arts of alchemy were often convicted of witchcraft. In Taymor's version, Prospera is usurped by her brother and sent off with her four-year daughter on a ship. She ends up on an island; it's a tabula rasa: no society, so the mother figure becomes a father figure to Miranda. This leads to the power struggle and balance between Caliban and Prospera; a struggle not about brawn, but about intellect.
The Tempest has a great star cast in Helen Mirren, Alfred Molina, Djimon Hounsou, David Strathairn, Chris Cooper, Alan Cumming, Ben Whishaw, Felicity Jones, and Russell Brand. The film is expected to hit theaters on December 10 th 2010.
Check out the trailer and tell us what you think.
Source: Quiet Earth