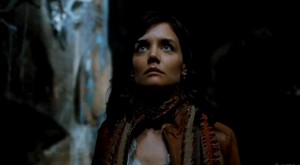 The new trailer of Troy Nixey's new movie Don't Be Afraid of the Dark will be one of the surprise hits of this year. The film was co written and produced by Guillermo Del Toro and centers on a family that moves into a new estate that houses very horrifying things.
The trailer has been getting a lot of cred in the last couple of weeks for being visibly scary and stuff. It has been a while since anyone has got to see a scarry film in the last couple of weeks. Don't Be afraid of the Dark is set to be released on August 12 th.
Here is an official synopsis of the film.
Introverted Sally Hurst (Bailee Madison) has just moved in with her father Alex (Guy Pearce) and his girlfriend Kim (Katie Holmes) when she realizes that their sprawling estate holds its fair share of secrets. Ascending to the depths of the house, Sally gains access to a secret lower level that has lain undisturbed for nearly a century, when the original builder vanished without a trace. When Sally accidentally opens the gateway that kept the creatures locked up tight, she realizes that in order to prevent them from destroying her family is to convince her skeptical father.