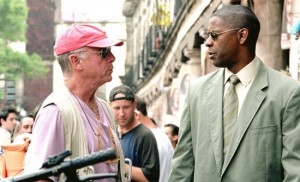 Tony Scott brings out another waste of Time in Unstoppable. It is quite late in the promotional timing. The film looks like any other wasted effort from the director who just makes crap. The film will be taking a leaf from the last movie Denzel combined with Tony Scott called Taking of Pelham 123 that was a drama and not a thriller.
The film also stars Chris Pine, Denzel Washington and Rosario Dawson. The three of them have been heavily promoted in the trailer. The film is scripted by Mark Bomback. It is loosely inspired by actual events. The film tells the story of an experienced engineer who finds himself teaming up with a young conductor in a race against time. He has to stop a runaway train carrying a cargo of toxic chemicals.
The production of the film had a lot of issues. The film really had to cut down on the budget which was quietly escalating. But people seem to be forgetting it. The trailer looks quite stoppable and silly, but tell us what you think.