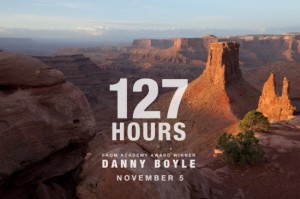 The new trailer for the Danny Boyle film 127 Hours is out. It banks on the unique vision, which the director is famous for in his last couple of films. It tells the story of Aron Ralston, the mountain climber who amputated his own arm to free himself after being trapped by a boulder for nearly five days. Here is a small synopsis via Slashfilm.
127 HOURS is the new film from Danny Boyle , the Academy Award winning director of last year's Best Picture, SLUMDOG MILLIONAIRE. 127 HOURS is the true story of mountain climber Aron Ralston's (James Franco) remarkable adventure to save himself after a fallen boulder crashes on his arm and traps him in an isolated canyon in Utah. Over the next five days Ralston examines his life and survives the elements to finally discover he has the courage and the wherewithal to extricate himself by any means necessary, scale a 65 foot wall and hike over eight miles before he is finally rescued. Throughout his journey, Ralston recalls friends, lovers (Clemence Poesy), family, and the two hikers (Amber Tamblyn and Kate Mara) he met before his accident. Will they be the last two people he ever had the chance to meet? A visceral thrilling story that will take the audience on a never before experienced journey and prove what we can do when we choose life.
The screenplay is written by the man behind Slumdog Millionaire Simon Beaufoy and it does not contain any dialogue for almost 1 hour of the film. The film is expected to be premiered at the Toronto Film Festival this year. He will also probably screen the film at Telluride where two years ago his film Slumdog was given a standing ovation. The film's score is done by A.R. Rahman. This should give us an added reason for the film to shine through. We will keep you posted on developments on the film. 127 Hours will hit theaters on November 5 th.