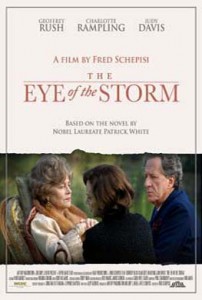 Fred Schepisi has finally found some work and got a great cast for his next film called The Eye of the Storm. The film stars Charlotte Rampling, Geoffrey Rush and Judy Davis.
The story centers on a powerful, ex-socialite matriarch and the array of characters. This includes her actor son and her daughter married into French royalty. All of them convene at her deathbed and find themselves still under her destructive influence.
The film looks like one of those fluffy Oscar baits, which will certainly be done well. The only difference is that the main character is a female protagonist. It is based on a script by Judy Morris, the film also stars Alexandra Schepisi, Robyn Nevin, Colin Friels, John Gaden and Helen Morse. It is expected to come out sometime in 2011. The film will be followed by us in the coming months.
Source: The Playlist