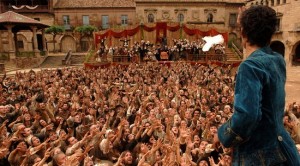 Tom Tykwer is known for his German language films that really have made the international scene like Run Lola Run and Perfume. His recent foray into the action genre the International was met with a mixed response. It was one of those heavy minded films. But the last German film he had made was The Princess and The Warrior which was back in 2000. He has not done anything over there for some time now.
Now Tom has got an interesting story in his hand that he wants to direct. The film is called Drei. It is described as a tragicomic film about love, mortality and gender in late modern Germany, set against late modern Berlin backdrops. But there is also an exploration of some philosophies in this one.
There is a concern with the budget of the new film. I feel Tom Tykwer works well with big budgets and it shows a lot of panache in his style. It will just feel forced if they shrink his budget.