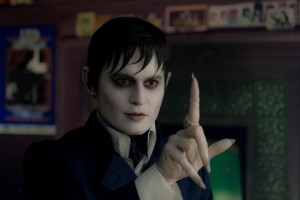 Johnny Depp seems to look funnier in the latest Tim Burton film. Here is the new image from his film Dark Shadows. The look seems to be a little on the weirder side this time round. But we are hoping that Johnny Depp will be able to pull of a commendable performance this time round.
Dark Shadows follows Barnabas Collins, a wealthy playboy who is transformed into a vampire and buried by a jilted lover, played by Eva Green. The film does sound interesting. After being dug up 200 years later, Collins tries to look out for his descendants played by Michelle Pfeiffer and Jonny Lee Miller. It will surely be a riot with all these stars coming together for this film. There were also be various other creatures like monsters, witches, werewolves and ghosts.
Tim Burton will be able to get rid off some of the soap opera elements of the show and try to make it his own. The film is expected to his theatres on 11 th may.